Bladder Cancer
Problem: lack of effective bladder cancer therapeutics, in particular for early-stage bladder cancer
Bladder cancer is the fifth most common cancer in the European Union (EU) and has the highest recurrence rate of all cancer indications (Figure 1.1). Each year, around 500,000 patients worldwide are diagnosed with bladder cancer, and this number is rising. Worldwide, bladder cancer results in around 165,000 deaths each year. The high mortality of bladder cancer is mainly caused by the lack of effective therapies and the high recurrence rate (~70%). Moreover, bladder cancer places a significant burden on the health care system with high healthcare expenses. In fact, it accounts for the highest treatment cost per patient in the cancer area. The total costs associated with bladder cancer treatment in the EU amount to €4.9 billion (2012), of which €2.9 billion are direct treatment costs. These data clearly demonstrate the significance of bladder cancer as a health care problem.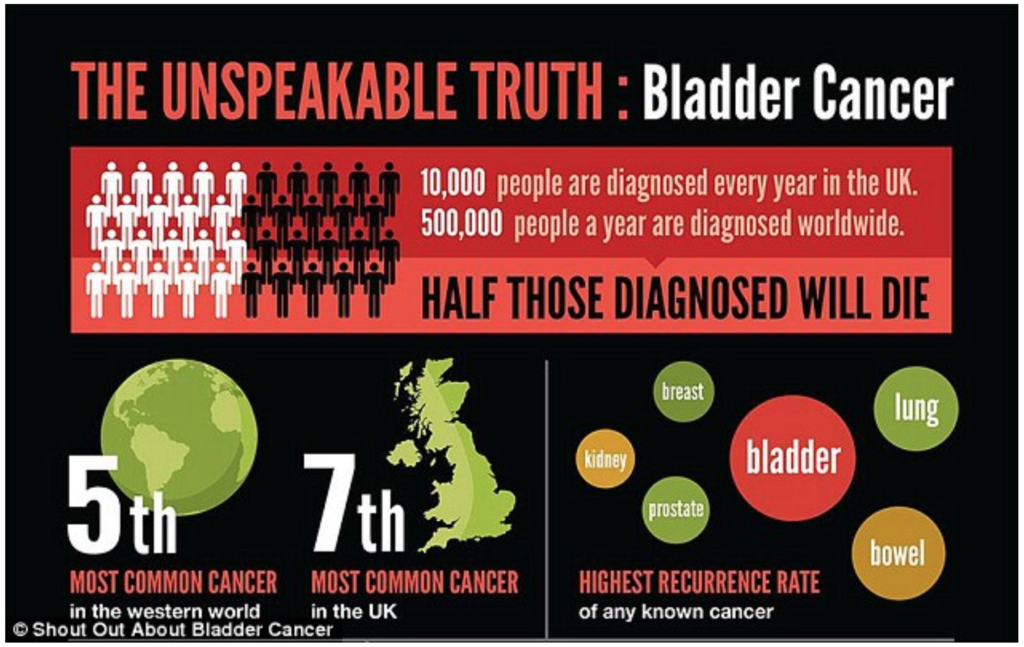 Bladder cancer is classified into three different clinical stages:
Non-muscle invasive bladder cancer (NMIBC): Stages Ta, T1 and Tis/CIS
Locally invasive bladder cancer: Stages T2 and T3
Metastatic bladder cancer (cancer spreading to other parts of the body): Stage T4
At diagnosis, around 70% of the diagnosed bladder cancers are classified as NMIBC, corresponding to 1.6 million patients currently suffering from NMIBC in the EU. The main challenge in NMIBC management is to prevent progression towards metastatic bladder cancer. At present, however, all available treatment options for NMIBC are suboptimal. They lack tumour specificity, are not effective, and cause significant side-effects. To prevent progression towards muscle invasion, and thus metastatic bladder cancer, radical removal of the bladder ('cystectomy') is often the only treatment option, which is a drastic surgical procedure, significantly impairing the patient's quality of life. In view of the high risk of tumour recurrence and the limited treatment options, there is an urgent need for novel NMIBC treatments that combine efficacy and selectivity for the targeted tumour, without causing side-effects.
Our solution: Alpha1H, a novel biological anti-cancer drug that acts with great selectivity
Hamlet Pharma chose bladder cancer (NMIBC) as the first indication because previous studies with HAMLET had shown clear effects on this particular form of cancer. As the entire HAMLET molecule is difficult to manufacture, the synthetic peptide drug Alpha1H was developed for clinical trials. Alpha1H has powerful positive effects in animal cancer models and the clinical study program has been able to be designed with high precision thanks to the extensive research. In preparation for the clinical studies, Alpha1H has been analyzed for toxicity in detail by external experts and no toxicity has been detected when treating healthy animals.
Clinical studies with Alpha1H in bladder cancer patients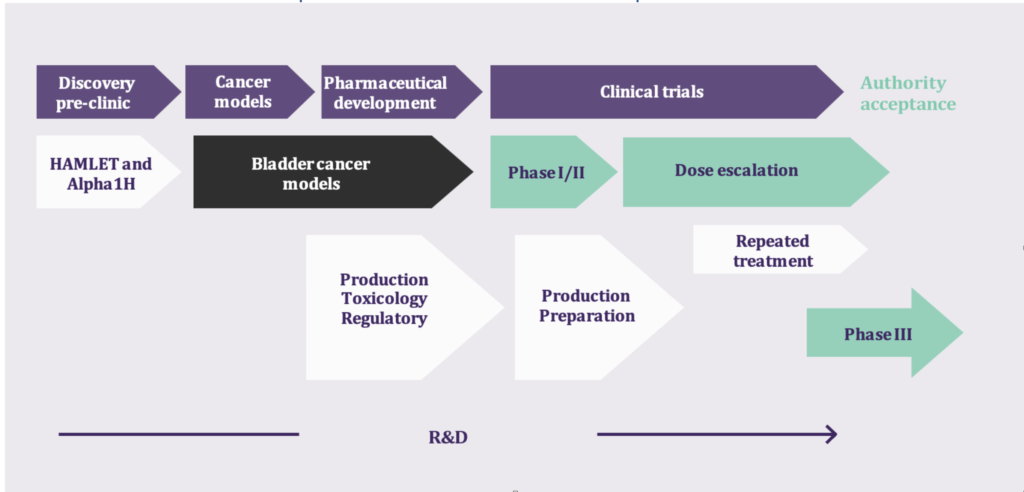 Successful placebo-controlled Phase I/II trial published in Nature Communications
A randomized and placebo-controlled study of Alpha1H was carried out by a medical team at the University Hospital in Prague in collaboration with Hamlet Pharma with good results. Patients did not experience more side effects caused by Alpha1H than those treated with placebo. The treatment had clear effects on the tumor which decreased significantly in size. Cells and pieces of the tumors were detached from the tumor, and analyzes of urine samples showed large amounts of cells that had taken up the drug. The tumor also showed signs of uptake of Alpha1H and apoptosis, which is a favorable form of cell death. Advanced molecular analyzes also showed interesting and specific responses in tumors treated with Alpha1H. Alpha1H closes e.g. of the expression of a large number of different cancer genes, which proved to be an important milestone. Read the published article in Nature Communication.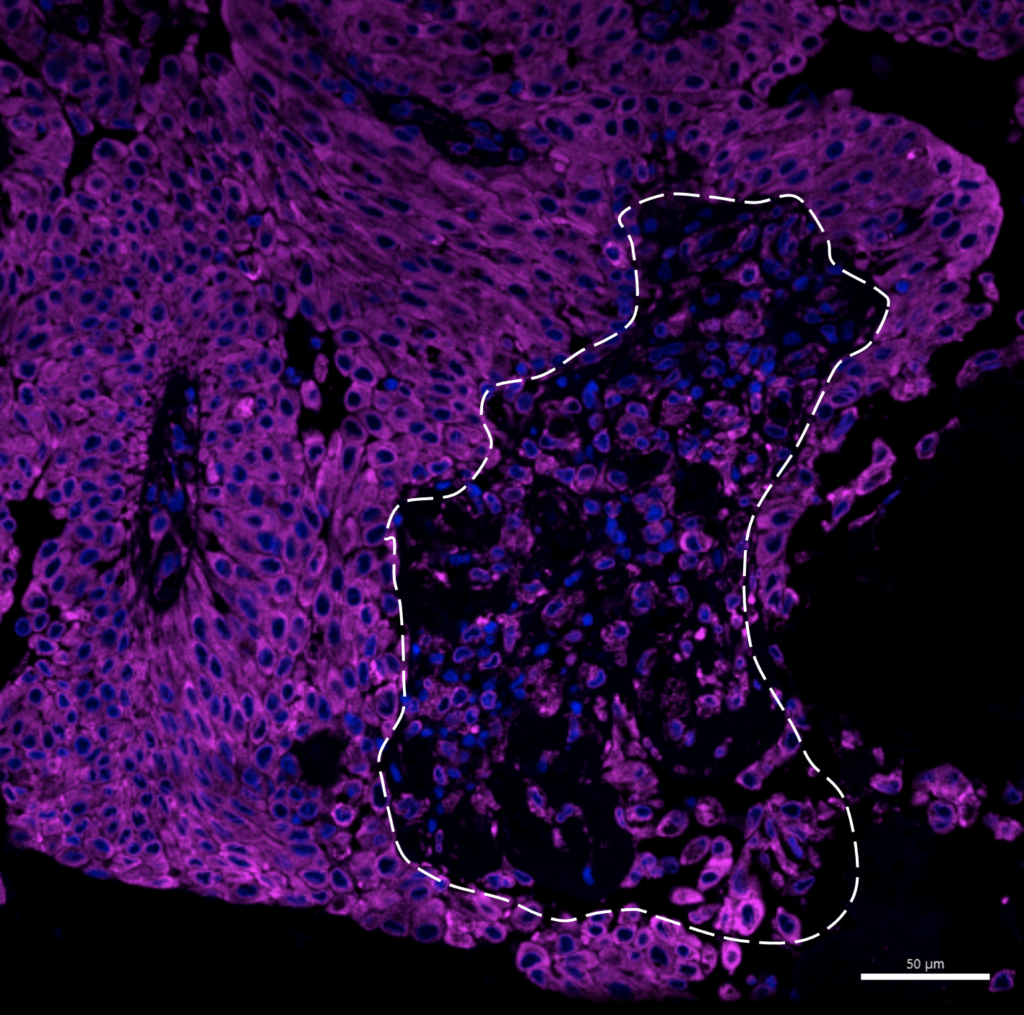 Higher dose of Alpha1H
In preparation for phase III studies, it is important to determine which dose of the drug provides optimal patient safety and treatment effect. In animal models, the effect of Alpha1H against bladder cancer has been shown to increase dramatically with increasing dose without causing side effects.
After approval from the Medicines Agency in the Czech Republic (SUKL), a dose escalation study was conducted to investigate whether higher doses have an acceptable safety profile and increased treatment effect. Hamlet Pharma has successfully manufactured larger amounts of substance for the study and the clinic in Prague has recruited patients for the study.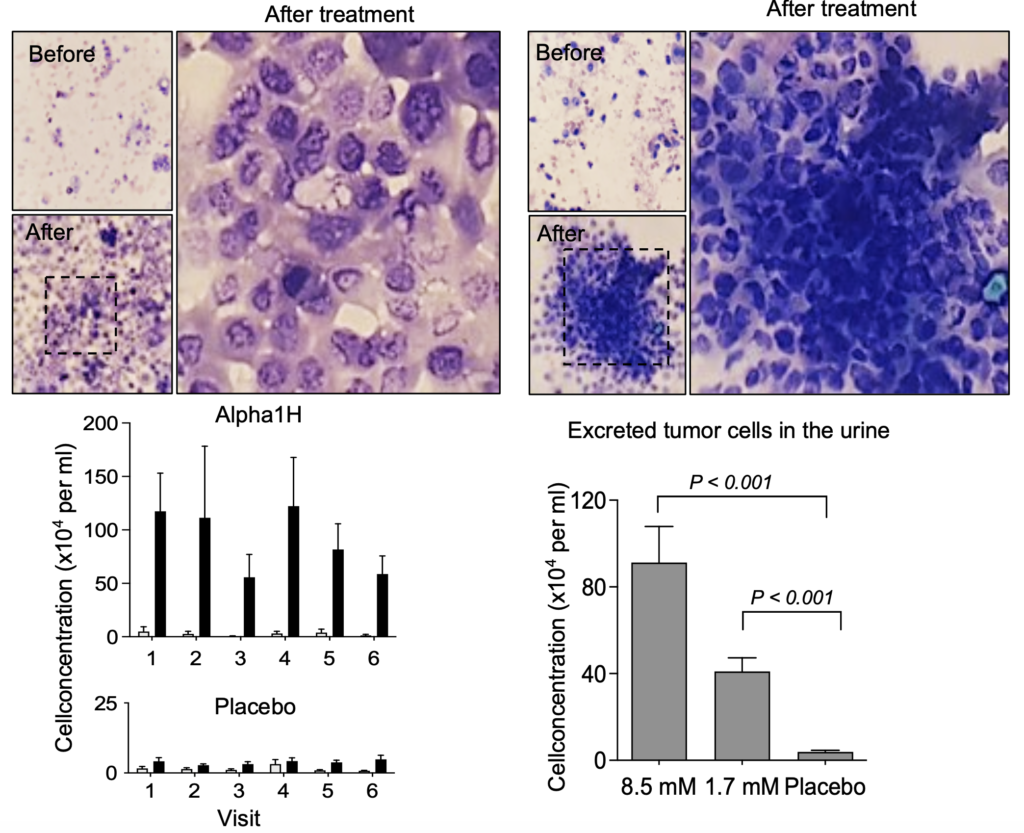 Analysis of data from the clinical trial shows very good results with the higher dose. Treatment with a 5-fold higher dose produced a dramatically increased anti-tumor effect, with disintegration and necrosis of the tumor and the excretion of tumor parts and cells in the urine of treated patients without a major increase in side effects.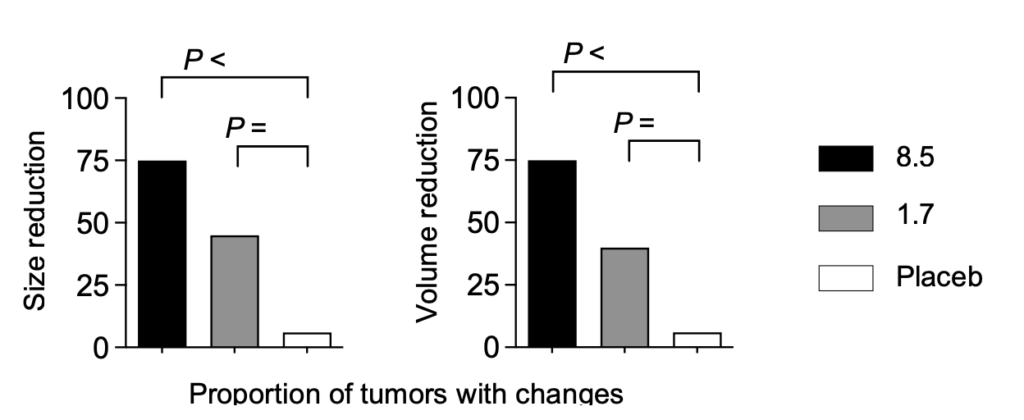 Dose-dependent tumor response with reduced tumor size at higher doses of Alpha1H in the treatment of bladder cancer patients.
The tumor cells underwent apoptosis after heavy uptake of Alpha1H. These studies show that Alpha1H has a killing effect on bladder cancer cells, which is a very positive signal for future clinical studies. Continued analyzes of the clinical samples have yielded important molecular insights that increase our understanding of Alpha1H's mechanisms of action and the tumors' response to treatment.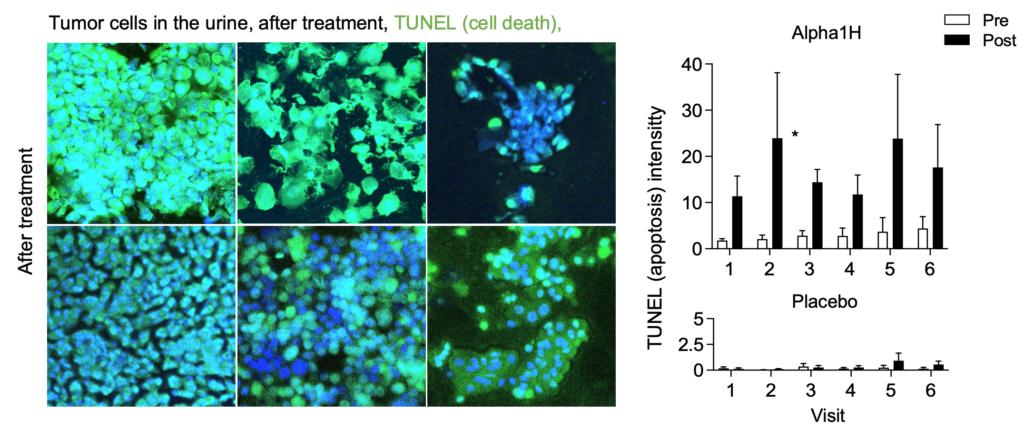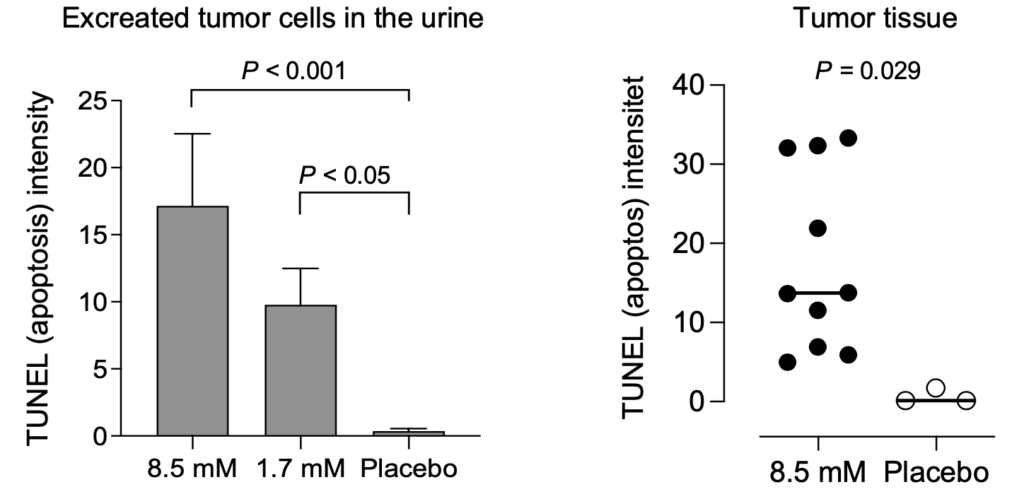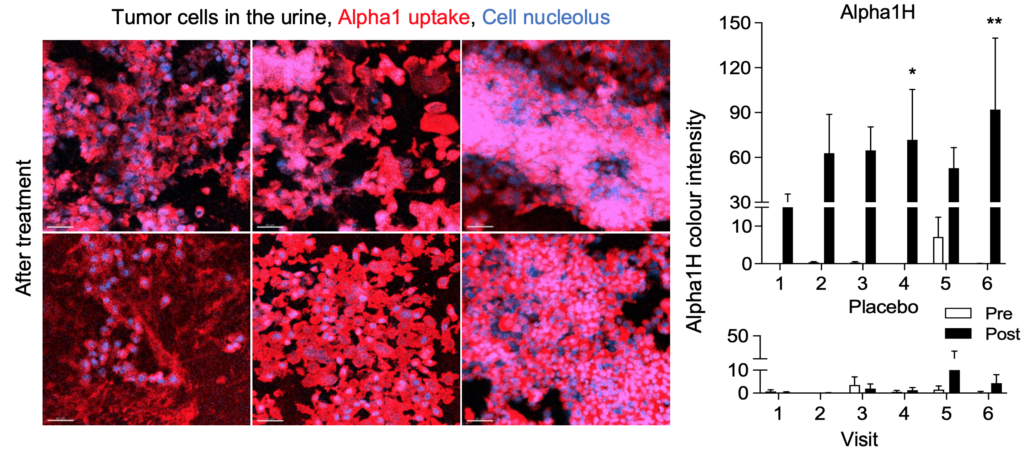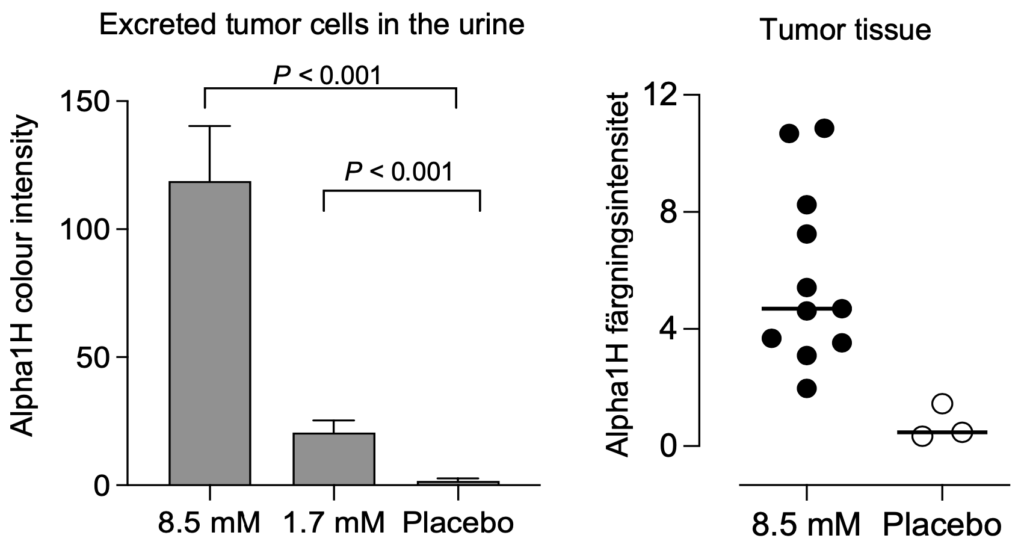 Extended treatment with Alpha1H– ongoing study
The positive effects on the tumor and the absence of side effects compared to placebo, even at the higher dose, now make it possible to add a second round of treatment after the patients have undergone the first treatment according to the original protocol in the current study. The goal of prolonging the treatment is to optimize the effect on the tumor by introducing repeated treatment, which better corresponds to the future clinical reality. The treatment will be tested in a smaller number of patients and will not delay the regulatory process.
Bladder cancer market trends
Bladder cancer is the fourth most common malignancy in the United States and the fifth in Europe, with a prevalence of approximately 1/4000 (Antoni, S et al, 2016). Each year, approximately 500,000 patients worldwide are diagnosed with bladder cancer, and this number is increasing (Globocan WHO, 2012). Worldwide, bladder cancer results in approximately 165,000 deaths each year. In addition, bladder cancer has the highest recurrence rate of all cancer indications (EUCAN, Bladder cancer statistics, 2012; NIH Cancer Stat Facts: Bladder cancer 2015) as more than 80% recur after complete surgical removal of the first tumor and 15% progress to muscle invasive disease (Van Rhijn, B.W, et al., 2009).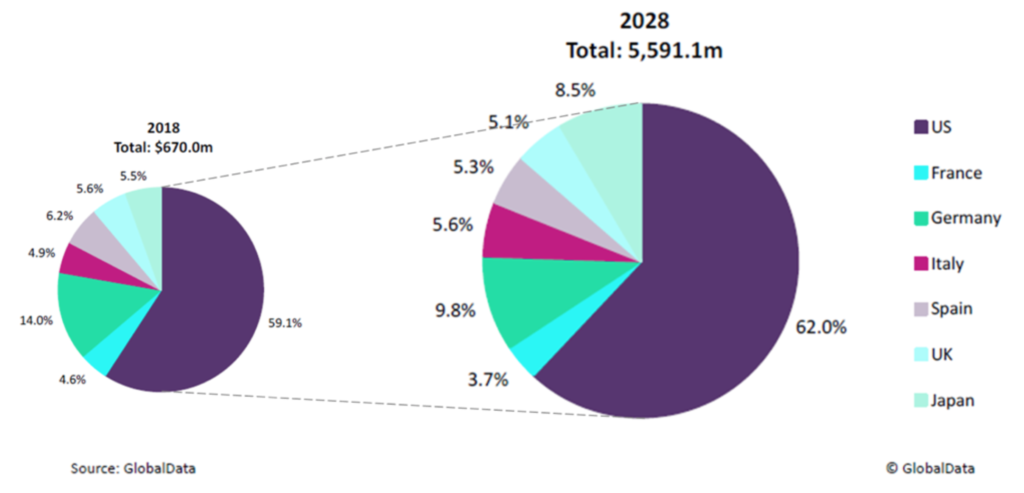 Commercialization of Alpha1H will initially focus on the bladder cancer market, which is estimated by GlobalData to be worth SEK 6.8 billion in 2018 in the 7 largest markets (USA, France, Germany, Italy Spain, UK and Japan). In 2018, the US accounted for approximately 60% of bladder cancer drug sales in these 7 countries, while the 5 largest markets of the EU and Japan contributed 35% and 6% respectively. It is expected that the bladder cancer market will grow with an annual growth rate (CAGR) of 24% and thus reach a market equivalent to SEK 57 billion in 2028. In 2028, the USA is expected to account for 62% of the market, while the 5 largest countries within the EU and Japan will account for 30% and approximately 9% respectively.
For non-invasive bladder cancer, where Alpha1H currently has its focus, the market is expected to increase significantly. About 70% of diagnosed bladder cancer cases are NMIBC (Non–Muscle Invasive Bladder Cancer), which corresponds to about 1.6 million patients annually in the EU. Bladder cancer is also the most expensive form of cancer in the United States (NIH Cancer Stat Facts: Bladder cancer 2015).
Strategy
Hamlet Pharma's compounds HAMLET, Alpha1H and BAMLET have has huge potential as a general cancer therapeutics, with future impact on the treatment of cancer. Alpha1H directly taps into the growing bladder cancer therapeutics market (estimated value in 2025: €1B), characterized by high need for new more effective and safe treatment options.
Our main commercialisation strategy is to out-license Alpha1H to a pharmaceutical company after Phase IIb/III clinical studies, prior to pivotal Phase III clinical testing and further commercialization and registration, creating revenues from upfront, milestone and royalty payments.
Alternatively, we plan to raise further equity capital through an additional Initial Public Offer (IPO) or a private round to perform the Phase III.
We have finalized Phase I/II clinical safety and efficacy studies and dose-escalation studies for Alpha1H to advance development of the drug towards the Phase III trial (i.e. ready for licensing deal or IPO).
The strong IP position, together with the success of the treatment and clinical safety, provides an excellent basis for Hamlet Pharma to reach this milestone.
Positioning
Alpha1H is intended for use in hospitals and clinics treating patients with bladder cancer. The treatments will initially mainly be carried out by urology specialists in hospitals, but may also be used in general practice. Other affected stakeholders, depending on the healthcare system, may be the health insurance companies (as payers) and private clinics. The experience from the bladder cancer studies play an important role in the choice of strategies.