Colon Cancer
Colorectal cancer is a leading cause of death world-wide and more than 180,000 cases are diagnosed annually in the US alone. Target groups for BAMLET treatment are patients at risk of developing colon cancer and patients who already have the disease. In parallel with the manufacture of BAMLET, Hamlet Pharma will apply for permission for initial clinical studies in patients who are at risk of developing colon cancer or who already have the disease. The intention is to investigate the effects of local administration of BAMLET, e.g. orally in liquid form.
Patients with colon cancer are primarily treated with surgery and cytostatics. Cytostatic treatment after surgery reduces the risk of recurrence and increases long-term survival. However, the side effects of these treatments are often severe. Hamlet Pharma therefore intends to investigate how BAMLET, which has not shown toxicity, can be used for local treatment to reduce tumor growth and prevent spread. Since this approach has been successful in patients with bladder cancer, the Company sees this as a possible strategy. Other ways to deliver the drug will also be discussed ahead of future clinical studies. In some families, the risk of colon cancer is very high. Currently, patients are treated with surgery and gradual removal of tissue, which may result in the patient needing a stoma. There is currently a lack of drugs that reduce the risk of developing cancer and this patient group may therefore be a suitable group for BAMLET treatment with the aim of preventing the development of cancer.
BAMLET in the drinking water; protection against intestinal cancer and potent beneficial health effects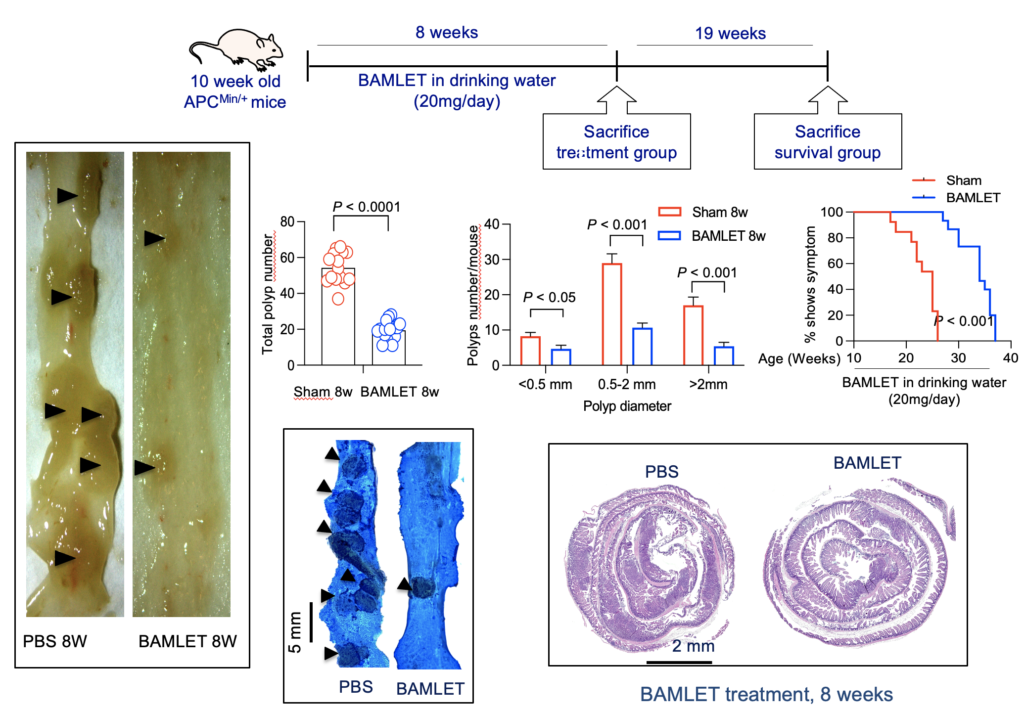 Daily, long-term treatment with BAMLET in the drinking water inhibits intestinal tumor development in mice genetically susceptible to intestinal tumors, compared to mice not receiving BAMLET. The frequency of tumors and the tumor size was reduced already after short-term BAMLET treatment but with continued treatment, the mice remained symptom-free and survived significantly longer than control mice.
BAMLET targeted the tumor rather than healthy intestinal tissue and did not cause side effects in the mice that developed cancer or in healthy mice that received BAMLET in the drinking water.
Without treatment, the intestinal tumors grew aggressively and the majority of untreated mice showed evidence of disease also in the lungs, liver and kidneys. BAMLET treatment protected the mice from these extra-intestinal manifestations of disease. These findings are conceptually important, as they suggest that local treatment of the intestine, by supplying BAMLET in the drinking water, can affect cancer development as well as disease states that the cancer may cause in other organs. suggesting a systemic as well as a local effect.
The effects of BAMLET treatment further included important physiological functions, which positively affected lipid metabolism and glucose metabolism. The findings highlight the beneficial properties of BAMLET and a broad range of effects affecting health and disease.
Colon cancer market
Colorectal cancer is among the three most common types of cancer in the world and a significant cause of death. In Sweden, colorectal cancer is the third most common form of cancer in both men and women, after breast cancer and prostate cancer. Survival is strongly dependent on the tumor stage and the 5-year mortality in the entire diagnosis group is approximately 35%. Hereditary forms often debut earlier. It is therefore essential to identify tumors early and treat them locally, so that they do not increase in size and spread outside the intestine, causing metastases in the liver or other organs.
The market for the treatment of colon cancer is expected to amount to SEK 90 billion in 2025, corresponding to a CAGR of 3.0%. This indication also represents a large number of patients with a great medical need for new effective and safe treatments.